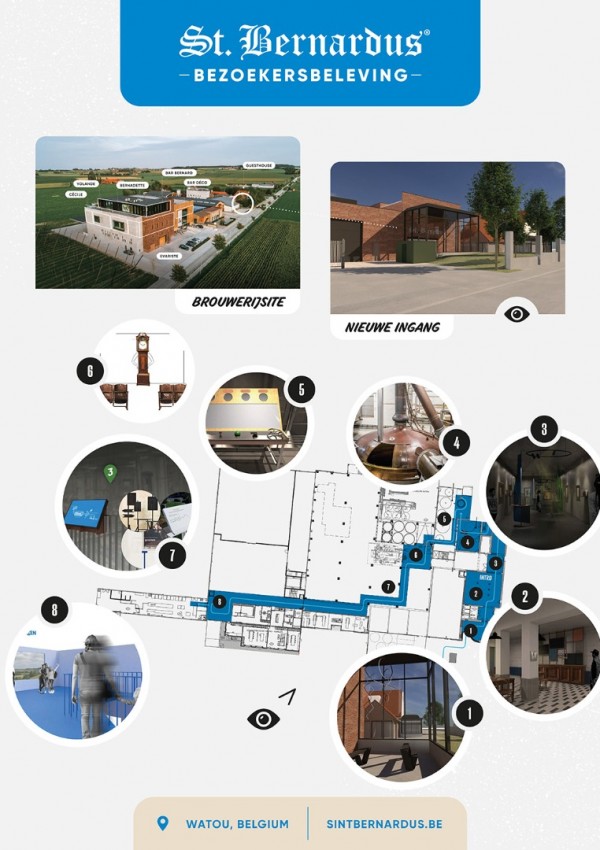 Work in progress...
We have been organising authentic tours of our brewery for more than a decade now. At the end 2021, we were forced to temporarily suspend these tours due to work carried out in our production environment in relation to the installation of a new filling and packaging line.
Just before the summer holidays of 2023, we will be launching our new visitor experience, where you will be given the chance to learn all about the unique story behind St.Bernardus, completely at your own pace. This museum experience immerses you in the history of the brewery, teaches you the basics of the brewing process, and gives you a unique peek behind the scenes. Expect a sensory audio-visual experience with – and how could it be otherwise – a beer tasting at the end!
The new visitor experience will replace all previous tours of the brewery.
Would you like to be kept informed of all further updates in relation to our new visitor experience? Subscribe to our newsletter. Newsletter subscribers will be the first to receive all the relevant information about this, even before we issue press releases or publish on social media. In other words: you will have an exclusive right to purchase your tickets to our new visitor experience before anyone else.
In the meantime, you can of course always visit Brewery Kazematten in Ypres. Follow the link below and book your seats right away.
Frequently asked questions
Can I already book a visit or is it too early for this?
You cannot book a visit yet. If you subscribe to our newsletter, you will be among the first to learn about the launch of our online booking tool and be eligible to book a visit on our calendar with priority.
When will we launch the new visitor experience?
We hope to open our new experience to the public at the beginning of the summer holidays. However, we cannot give you an exact date yet. If you subscribe to our newsletter, you will be informed of the exact date.
What are the opening days and hours of the visitor experience?
The visitor experience will be open from Wednesday to Sunday and will be closed on Mondays and Tuesdays, just like our rooftop bar Bar Bernard.
How much will tickets to the visitor experience cost?
We cannot give you an exact price yet.
How many people can come along with me to the new visitor experience? Can I make arrangements for a group visit?
You can take part in an interactive tour of the brewery as an individual, with your family, in a group of friends or acquaintances, or as a school or company outing. The maximum number of participants for a group tour has not yet been set.
In which languages is the visitor experience available?
The text panels and all audio materials will be provided in four languages: Dutch, French, English and German. All videos will also be accompanied by subtitles in these languages.
Can I arrange for a visit with a guide?
The tour part of the new visitor experience can be taken entirely at your own pace. We have developed a self-guided tour that allows visitors to start every section (text, image or sound) automatically at their own convenience. All audio will be provided with subtitles in four languages: Dutch, French, English and German. We have not made any provisions yet for a guided tour.
Can disabled persons take part in the visitor experience?
Yes, the visitor experience is accessible for wheelchair users and other less able-bodied visitors. Persons with a hearing impairment should know that all display materials have been provided with text, and that all videos have been provided with subtitles.
Do you have another question? Let us know through visit@sintbernardus.be