St.Bernardus Tokyo
St.Bernardus Tokyo Sounds familiar? You are quite right, because in 2012 we launched a one-off brew on the occasion of the opening of the first St.Bernardus-themed café in the Japanese capital. Eight years later, you can sample our St.Bernardus Tokyo again, albeit with a new recipe!
The young Belgian illustrator Jonas Devacht created the artwork for the can, which consists of an impression of Japanese nightlife in the iconic streets of Kanda district, where you can find 'Brasserie St.Bernardus'.
St.Bernardus Tokyo (6% ABV) is an unfiltered, golden ale, which has been brewed with a large amount of wheat, holding the middle between a white beer and a saison. It's topped off with an impressive white collar.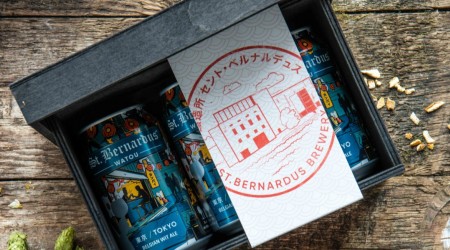 Magnum 2020
In 2012 we decided to start producing a limited number of magnums (bottles containing 1.5 litres of beer). Each year, our Abt 12 is bottled in a special dark brown St.Bernardus magnum, featuring the brewery's logo in relief, a 'Bière Belge' neck, a personalised cork and a unique muselet, and we ask a different artist to design the label. Artists whose work has graced past labels include Rik Vermeersch, Christian Silvain, Kamagurka and André Van Schuylenbergh.
The 2020 Magnum Edition features a work of the Belgian visual artist Christophe Malfliet. Christophe Malfliet, born in 1966, lives and works in Dendermonde. He paints in series, mainly figurative, abstract or in interaction. With a uniform plasticity, it is invariably recognizable because of its style, the tousled color combinations, the strange atmosphere and the unlined lines. He always manages to inspire his paintings with a rebellious undertone, how innocent the scene may look.
Note well: this is a limited edition!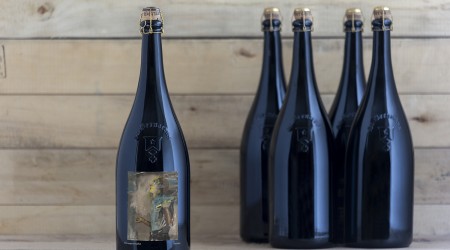 Gold medal - BBC 2019
Just like in 2018, St.Bernardus Tripel came out as the best (Belgian Style) Tripel at the Brussels Beer Challenge. The BBC is an annual international beer competition, in which the contestants vie for the title of 'best beer'. Every beer entered into the competition by the participating breweries is carefully tasted and tested by a jury of 80 beer connoisseurs from all over the world. It goes without saying that we are extremely proud of this acknowledgement! St.Bernardus Tripel is a traditional abbey beer, brewed in the classic 'Tripel' style.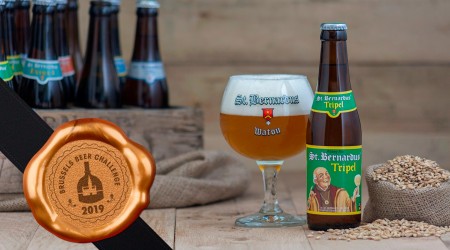 World Beer Awards 2019
The annual World Beer Awards are among the most prestigious beer prizes in the world, the 'Olympic Games of the beer world'. For the first time in years our brewery participated in the World Beer Awards. We registered 4 of our beers, which earned us no less than 5 medals.
Abt 12 won gold in the 'Belgian Style Strong' category and our St.Bernardus Wit was awarded a silver medal in the 'Belgian Style Witbier' category.
Prior 8 and Tripel are Country Winners (one step higher than the gold medal) in their respective 'Belgian Style Double' and 'Belgian Style Triple' categories. Our Prior 8 and Tripel can now be called the best 'Dubbel' and 'Tripel' in Belgium for one year. At the end of last year, St.Bernardus Tripel also won the gold medal at the Brussels Beer Challenge for best 'Belgian Style' Tripel.
And it's not all, on top of that the Prior 8 received the highest distinction in its category, namely 'World's Best Dark Belgian Style Dubbel'. Prior 8 not only became a Country Winner, but also a 'Style Winner' worldwide, in other words, the world's best 'Dubbel' beer! This also means that the Prior 8 can get even further this fall, since it will compete for the title of 'World's Best Dark Beer'. The results will be announced in September.