Pierre Celis - 2004
75 YEARS OF HISTORY ⏪ PIERRE CELIS 👉 Did you know that our St.Bernardus Wit was developed in collaboration with the legendary Belgian master brewer Pierre Celis? Pierre was the undisputed driver of the resurgence of white beer in the 1960s! Early 90s he moved his brewing activities to the USA, starting his own Celis Brewery in Austin. Earlys 00s he developed a new beer that was brewed and commercialised by St.Bernardus, namely 'Grottenbier'. This dark beer is now called 'Grotten Santé' and brewed in Ypres, namely in the Ypres' City Brewery Kazematten. Pierre wanted to return the favour and helped us to perfect our recipe for St.Bernardus Wit. Back in 2004 he visited our brewery and Hans Depypere, Guy Claus, Bruno 'Fons' Verbiest and Marco Passarella welcomed him. Hans is the owner of the brewery since 1998. Guy Claus joined the brewery in the early 1960s as the husband of Bernadette Deconinck, who was one of the daughters of Evariste Deconinck (the founder of the brewery together with his brother Antoine). Bruno Verbiest was our commercial director before Marco took the reigns in 2003. As you can see on the pictures, the gentlemen enjoyed a fine meal prepared by Stefaan Couttenye of restaurant 't Hommelhof in Watou. Pierre's daughter, Christine Celis, got back the trademark of the Celis Brewery in 2012 and still runs the brewery in Austin since then. Pierre passed away in 2011 at age 86. Pierre, thanks for your Heavenly Contribution to our Heavenly Nectar.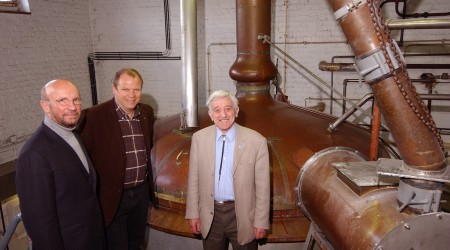 A portrait of owner Hans Depypere
75 years of St.Bernardus Brewery: that's not only a good moment to publish a book, but also the perfect time for our owner Hans Depypere to look back. Roughly 1/3 of those 75 years, he's at the helm of our thriving business. We followed Hans for a day and let him speak as he is, straightforward and down-to-earth. He speaks about his passions (because 'brewing beer' is only one of them) and his best friend Dirk Ghyselinck.
Anyone who knows Hans a little bit, knows that he's not the biggest 'digital native'. Therefore we would like to surprise him 👉 if you call +32 57 65 00 30, you can immediately leave a personal message for Hans. Would you like to congratulate him on the brewery's 75th birthday, or on his entrepreneurial skills, etc.? Then here's your chance! Do you want to ask him why he doesn't answer your mail from about 5 years ago 😜? Then here's also your opportunity 😉
The Great Flemish Stew Debate
In this article, beer community Belgian Smaak takes a closer look at the ancient Flemish classic 'stew with fries'. Why is it so popular? How do you prepare it? And why does everyone give it their own twist? Read more trough the link below!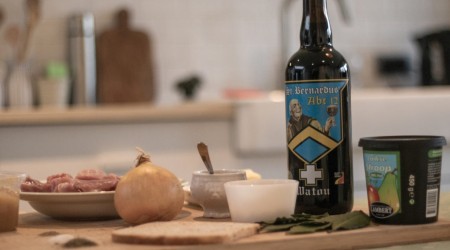 So our (web)shop girls Kayleigh and Kato wanted some airtime during our #abt12day livestream of 12 december 2020. Now we know why they're so cranky every time we discuss new St.Bernardus apparel 😋😃. In the meanwhile, you can still find our 'ordinary' clothing on our webshop 🤗😜👉 https://shop.sintbernardus.be