Info
St.Bernardus Wit is a traditional unfiltered Belgian wheat beer. It was developed in collaboration with Pierre Celis, the legendary master brewer who was the driver of the resurgence of white beer in the 1960s.
Colour
St.Bernardus Wit looks distinguished and classic with its attractive, golden-yellow colour hidden under a subtle veil – it epitomises the authentic Belgian cloudy white beer.
Characteristics
Colour

White

Type of beer

Wheat beer / Top fermentation

Alcohol degree

5,5 %

° Plato

12,5

Recommended pouring temperature

2 - 6 °C

Colour (EBC)

6

Bitterness (EBU)

15

Shelf life

2 years (bottle) / 18 months (can) / 1 year (keg)

Packaging

Bottle: 33 cl / 75 cl - Can: 33 cl - Keg: 20 L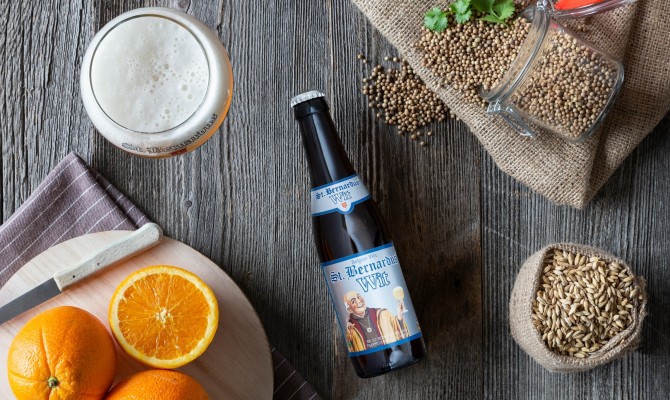 Character, taste, aromas
St.Bernardus Wit is famed for its zesty tastes of coriander and orange, with background touches of spicy cloves, fragrant with fruit and citrus. These zingy herbs combine with the creaminess of the wheat to produce a beer that is a masterclass in balance. The mild mouth feel produces a lovely interaction between the sweet malty taste and the refreshing touches of acid to produce a feeling of freshness overall.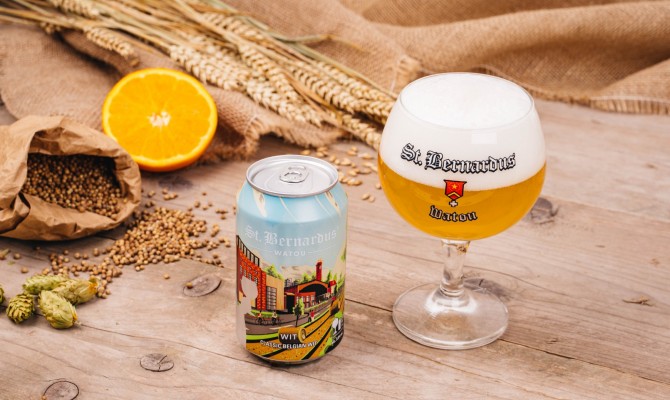 Culinary
This incredibly versatile beer can be paired with almost any recipe from anywhere in the world. Its most outstanding role is perhaps that of a refreshing contrast when served with creamy dishes - a risotto for example - or in combination with shell fish and white fish. Do you serve a slice of lemon with your fish? You can echo that or a lemon sauce or dressing with this beer with its strong hints of citrus.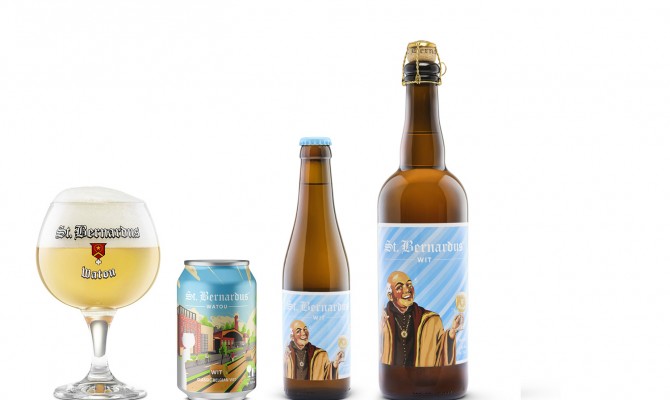 Media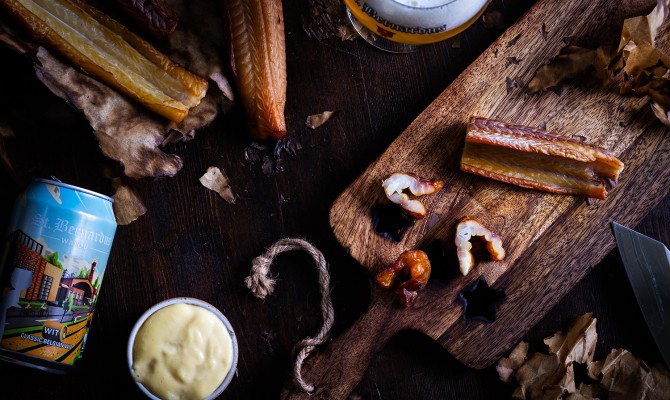 Inspiration
Arno Kiss
Belgian illustrator
Antwerp illustrator Arno Kiss is living proof that you can come into this world with an excellent artist name. Although he doesn't play the guitar or wears make-up from morning till evening like Gene Simmons and his band mates, he has already flexed his artistic talent on the music scene, designing tour posters for Metallica, Ween, Arctic Monkeys, Mumford & Sons, Death Cab For Cutie, Queens Of The Stone Age and The War On Drugs, among others.
He also created official illustrations for the Netflix series "I'm not okay with this" and for the collab between Travis Scott and Fortnite. With the new artwork for the St.Bernardus Wit cans, Kiss mainly wants to highlight the contrast between the modern brewery and its rural setting. Can you spot the fun details that he has 'hidden' in the design?
Do you wish to sell our beers? Please contact us through sales@sintbernardus.be