Philly cheesesteak with Extra 4
Planning to party all night? It's always a good idea to have a bite first. This Philly cheesesteak sandwich will help keep hunger pangs at bay. Ideal as a snack before a night out or after an energetic game of football. You deserve it!
Serves: 2 sandwiches
Time needed: prep time (10 minutes), cook time (15 minutes), vegetable pickling (2 hours)
Equipment: BBQ, skillet, saucepan, canning jars
Ingredients
For the quick-pickled vegetables: 1 snack-size cucumber, 1 red onion, 200 ml white vinegar, 100 ml water, 3 tbsp honey, 1 tsp sea salt
For the caramelised onion: 1 tbsp vegetable oil, 1 knob of butter, 2 large yellow onions, 1 dash of Ricard, 1 pinch of salt
For the meat: 400 g rib-eye steak, 2 tbsp vegetable oil, salt and pepper to taste
For the cheese sauce: 4 tbsp St.Bernardus Extra 4, 30 ml cream, 200 g cheddar cheese grated
Finishing touches: 2 demi baguettes, 2 tbsp mayonnaise, coriander leaves (optional)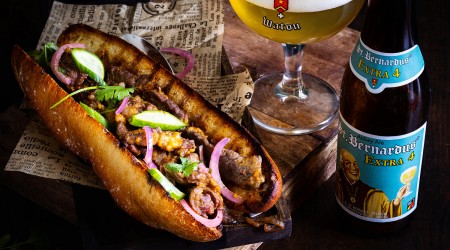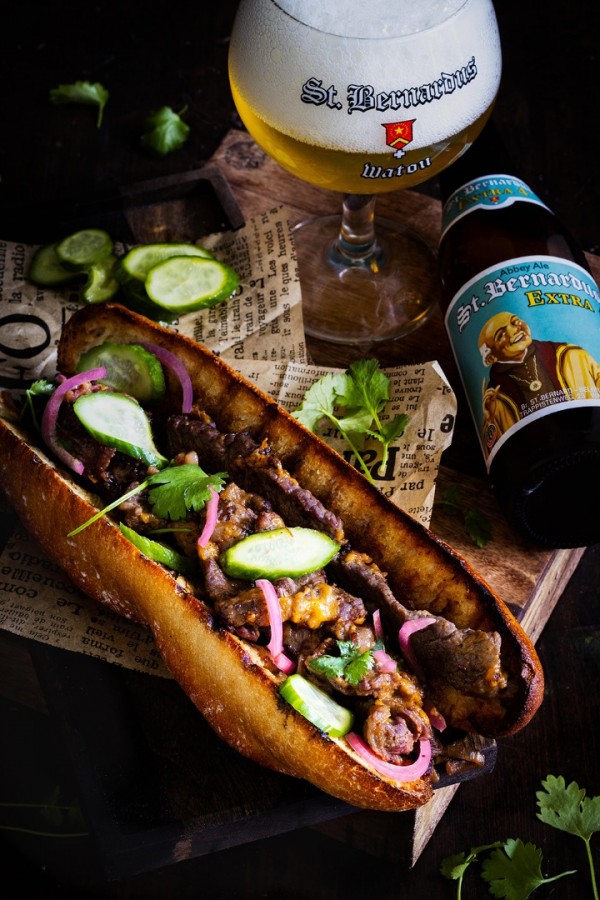 Preparation
For the quick-pickled vegetables
1. Thinly slice the cucumber into rounds and the red onion into half moons. Place in separate canning jars.
2. In a saucepan, bring the water, vinegar and honey to a boil and season with a pinch of salt. Pour the hot brine over the cucumber and red onion. Put aside to steep for at least 2 hours.
3. Meanwhile, prepare your BBQ for a session at direct medium heat (approx. 200°C). Set a cast iron skillet on the grill.
For the caramelised onion
1. Peel the yellow onion and slice into half moons. Add the oil and butter to your skillet and fry the onion until golden brown, seasoning with a bit of salt. Deglaze with Ricard, then simmer until the liquid has evaporated and the onion is nicely caramelised.
2. Remove the pan from the grill and keep warm over low heat.
For the cheese sauce with St.Bernardus Extra 4
Place the beer and cheddar cheese in an unheated skillet, then heat slowly until all the cheese has melted. One spoonful at a time, mix the cream into the cheese sauce. Continue simmering at low heat until the cheese sauce becomes thick and sticky.
For the steak
1. Pat the steak dry and season with pepper and salt. Cut the meat into thin strips.
2. Sear the strips of rib-eye in the hot skillet on your BBQ until they develop a nice crust. Pour the cheese sauce over the steak. Keep warm at low heat while you heat the baguettes.
Finishing touches
1. Slice the baguettes lengthwise, but not quite all the way through. Spread the bread with mayonnaise and grill cut side down until crisp.
2. Add some caramelised onion, then layer the strips of Philly Cheesesteak on top. Garnish with pickled cucumber, red onion and a few leaves of coriander.
Serve your delicious sandwiches with St.Bernardus Extra 4.
Enjoy!
This recipe was made by BBQ Bastard. Have you used any of our beers in your own tasty recipe? Share it with us at marketing@sintbernardus.be and who knows, your efforts may well be rewarded.