As you may know, mussels and beer are a good match, as ingredients and for beer matching. We combined the fruity bitterness of the Tokyo with Asian spices such as lemongrass and kaffir lime for our Asian Style mussels. The beer neutralises the spiciness of the seven spice powder and the chilli. You can serve it as a main course with noodles or rice, or as a (sharing) dish with drinks.
Dish: sharing dish for 2 to 3 guests
Preparation: 30 minutes
Ingredients
For the dish: 1 kg mussels, 2 cloves garlic, 2 celery stalks (or 1 handful of fresh lovage), 4 cm ginger, 1 onion, 2 kaffir lime leaves, 1 lemongrass stalk, 1 bell pepper, 1 red chilli, 1 pinch Shichimi Togarashi* (Japanese seven spice powder), 1 tbsp fish sauce, 2 tbsp soy sauce, 1 can St.Bernardus Tokyo, salt, pepper, olive oil
Garnish: fresh coriander and/or Thai basil, 1 lime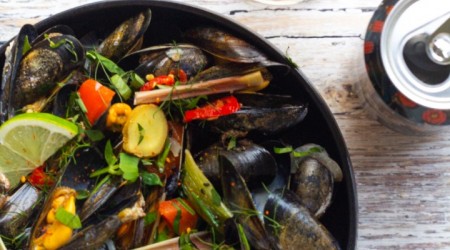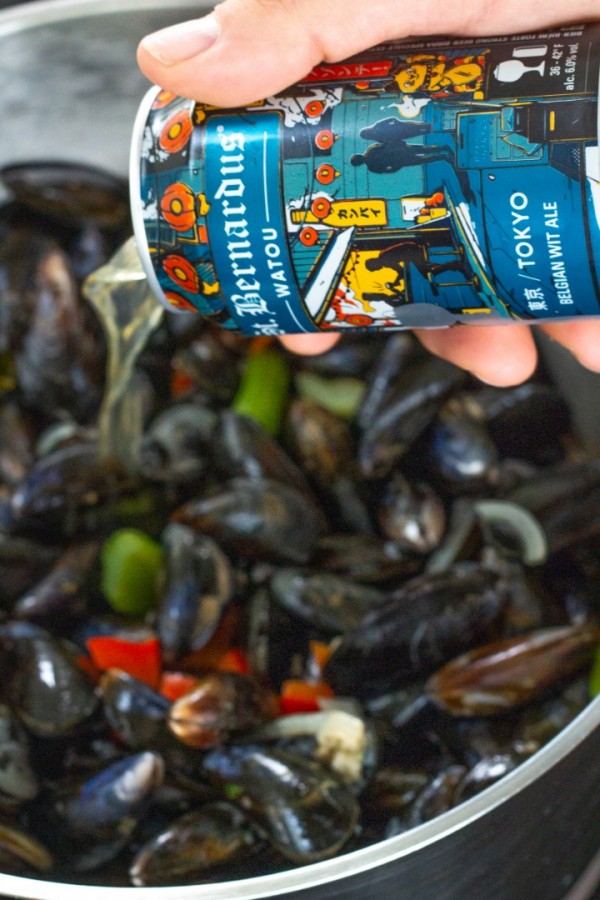 How to prepare
Rinse the mussels 2 to 3 times in cold water. Remove any barnacles and scrub them.
Peel the ginger and the garlic. Finely slice them. Cut the lemongrass stalk in half and bruise it with your knife. Peel the onion and coarsely chop it.
Deseed the chilli and slice it. Deseed the bell pepper and chop it up. Finally, chop up the celery (or coarsely chop the lovage).
Heat some oil in a large pot or wok. Gently fry the garlic, the ginger, the kaffir lime leaves, the lemongrass, and the onion.
Add the celery, the bell pepper, and the chilli pepper and fry well.
Raise the heat and add in the mussels. Pour in the St.Bernardus Tokyo, the soy sauce, and the fish sauce. Season with salt and pepper and a pinch of Shichimi Togarashi. Careful, it's spicy. Cover with a lid and steam for 5 to 8 minutes or until the shells have opened (depends on the size of the mussels). Shake now and then.
In the meantime, finely chop the coriander and/or the Thai basil. Roll the lime back and forth before cutting it into wedges.
Toss the mussels with the fresh herbs, drizzle over some lime juice and serve with a lime wedge.
Enjoy!
*Shichimi Togarashi = a popular Japanese spice mix. 'Shichi' means seven in Japanese and is a reference to the seven spices in the mix. 'Mi' means flavour and 'togarashi' means chilli in Japanese.
This recipe was made by Coeur de Boef. Have you used any of our beers in your own tasty recipe? Share it with us at marketing@sintbernardus.be and who knows, your efforts may well be rewarded.