Belgian Pork Croquettes with St.Bernardus Pater 6
Quantity: 40 balls, give or take a few
Preparation time: no need to rush
Equipment: deep-fat fryer, oven, large dish
Ingredients
To cook the pork: 1kg stewing pork, 1tsp jam, 1tsp mustard, 2 slices of bread, 1 onion, 2 carrots, butter, pepper, salt, 1 bay leaf, 1 bottle St. Bernardus Pater 6, 1 clove of garlic, a few sprigs of thyme
For the croquettes filling: 85g butter, 115g flour, 750ml chicken stock, 100ml St. Bernardus Pater 6, 700g pork meat, 2.5 gelatine leaves, pepper, salt, nutmeg
For the coating: pepper, salt, dried oregano, 100g panko, 250g breadcrumbs, finely ground, 300g flour, whites of 6 eggs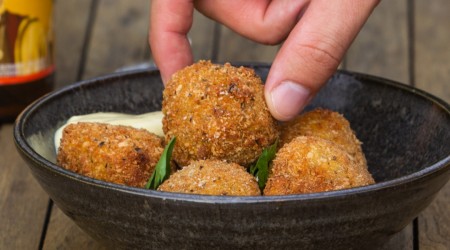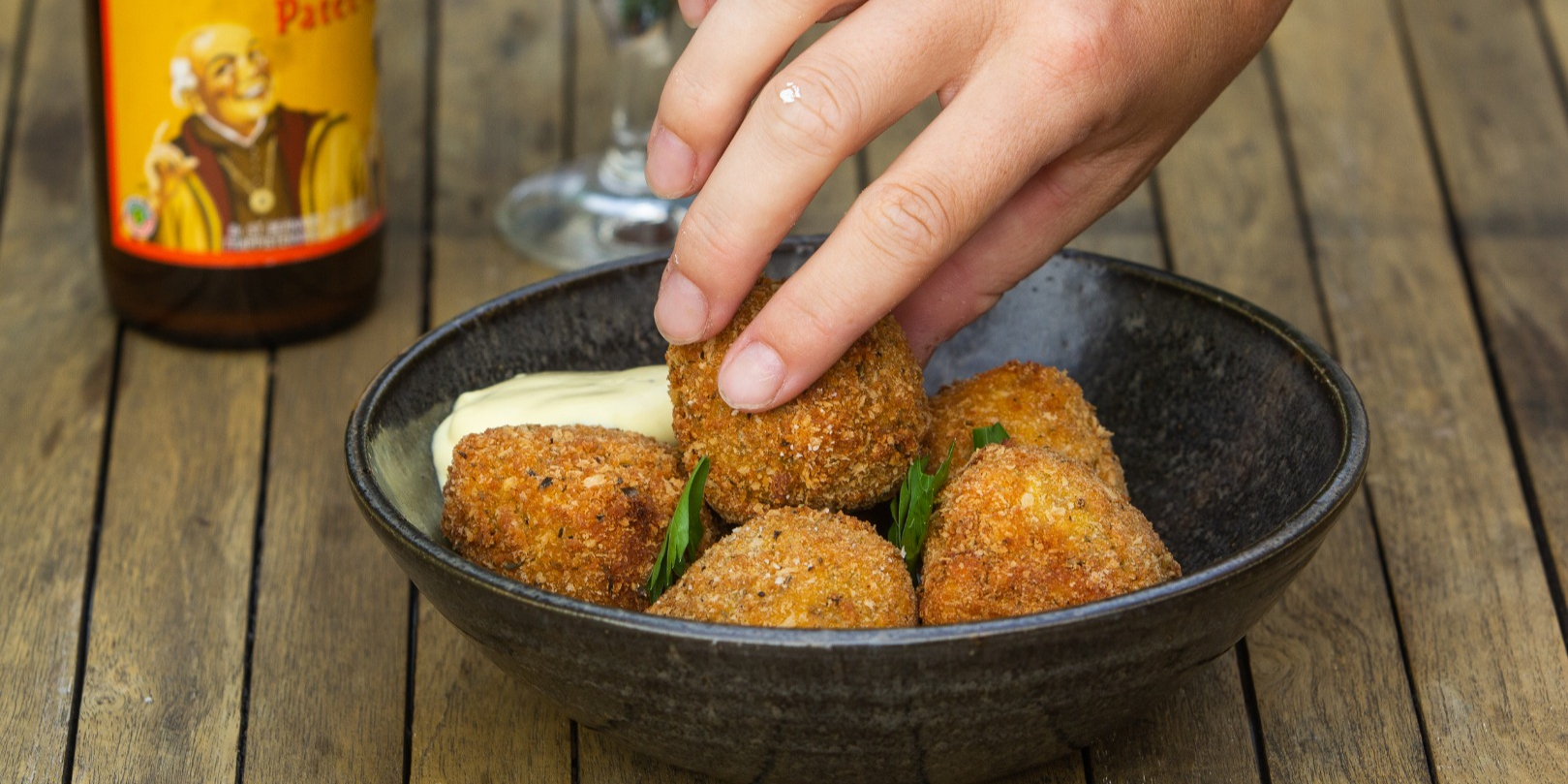 Take the pork out of the fridge and bring up to room temperature. Melt the butter in a casserole, fry the meat on all sides until coloured and remove from the casserole.
Finely chop the onion, garlic and carrot. Melt a knob of butter in the same casserole and sweat the chopped vegetables.
Return the pork to the casserole. Heat briefly and then pour in the beer to reduce the heat. Cover one slice of bread with mustard, the other one with jam. Arrange on top of the meat and add the bay leaves and thyme.
Turn down the hob and simmer continuously for an hour or two. Then place in a warm oven at a temperature of 80 - 90°C to cook through. If required, remove the lid to allow the liquid to reduce, stirring from time to time.
Switch off the heat and allow the flavours to assimilate overnight.
Next day, prepare a roux by melting the butter adding the flour and stirring until a dry, breadcrumb mixture is achieved. Add a little chicken stock and stir until smooth and lump-free.
Stir the remaining chicken stock into the beer and slowly add the mix to the pâte (the flour and butter mixture). Remove any lumps to achieve a smooth mixture.
Allow to set and season with pepper, salt and nutmeg.
Steep the gelatine in cold water. Squeeze and add to the mixture.
Finely chop the stewed pork prepared the previous day and mix it in. Line a dish with baking foil and pour in the mixture.
Allow to set in the fridge overnight or freeze and defrost in the fridge at your leisure.
And now for the best bit: the crispy coating. Take three large dishes: one for the egg whites, one for the flour and fill the third with the mixture of panko and breadcrumbs. Season the flour and breadcrumb mixtures with pepper, salt and the dried spices. Beat the egg whites. Reserve the egg yolks, maybe to make mayonnaise.
Finely chop the meat mixture and shape it into balls. Roll the balls around in the shallow dishes to completely cover them with flour, then egg whites and finally the panko-breadcrumb mixture. Allow the first batch to set in the fridge whilst you are busy working on the next lot. When the whole lot – around 40 balls - is set, give them another coating of egg white and panko breadcrumbs. You can store bitterballen in the freezer.
Otherwise, pop them into the deep-fryer and serve with a simple mayonnaise.
Tuck in and enjoy!
This recipe was made by Coeur de Boef. Have you used any of our beers in your own tasty recipe? Share it with us at marketing@sintbernardus.be and who knows, your efforts may well be rewarded.