Lemon curd with grilled peach
A lovely meal in the summertime without dessert? That's not our idea of a good time… Use your barbecue's leftover heat to create a tasty dish that only takes a little effort at that time. If you prepare the lemon curd and beer syrup beforehand, you should have plenty of time to enjoy a refreshing St.Bernardus Tokyo with your grilled peach. Enjoy!
Serves: 8 persons
Time needed: prep time (10 minutes), cook time (30 minutes)
Ingredients
4 ripe peaches, 8 sprigs of rosemary, 4 tsp mirin, 2 tsp lemon juice
For the mascarpone: 100 g mascarpone, 1 handful of mint leaves
For the beer syrup: 1 can St.Bernardus Tokyo, 150 g sugar, 8 sprigs of thyme
For the lemon curd: 2 eggs, 125 g butter, 200 g sugar, 2 lemons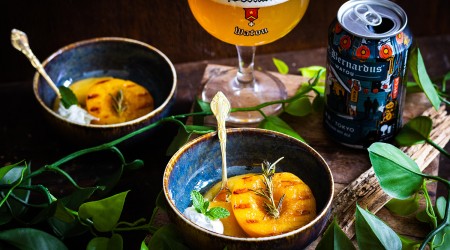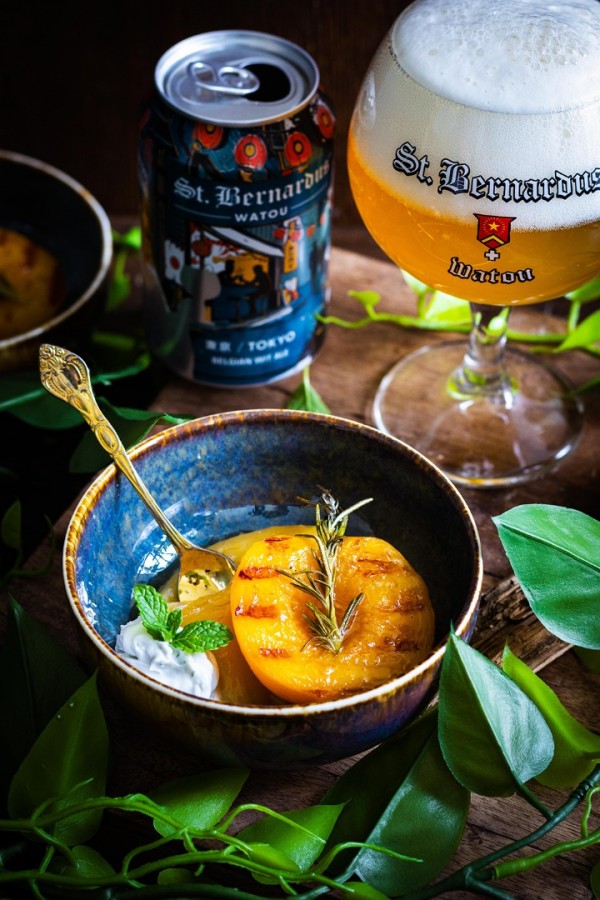 Preparation
For the beer syrup
1. Pour the contents of a can of St.Bernardus Tokyo into a saucepan and heat to just below boiling. Add the sugar and thyme and simmer until reduced by half.
2. Allow the syrup to cool.
For the lemon curd
1. Melt butter in a saucepan over medium heat along with the sugar and zest of two lemons.
2. Using a mixer, beat two eggs with the juice of half a lemon until foamy.
3. Add the juice of one and a half lemons to the melted butter mixture in the saucepan and allow to cool slightly.
4. Add the cooled mixture to the eggs and beat some more.
5. Pour it all into a pan and reduce the lemon curd over medium heat. Stir continuously to prevent burning.
For the grilled peaches
1. Prepare your BBQ for a session at direct medium heat (approx. 200°C). Set a cast iron griddle on your BBQ to preheat for 15 minutes.
2. Meanwhile, halve the peaches and remove the stones. Pierce them with the sprigs of thyme. Once the griddle is hot enough, grill the peaches flat side down for 5 minutes or so (depending on your BBQ's temperature) until they turn golden brown and are showing some nice grill marks.
Finishing touches
1. Finely chop the mint and mix with the mascarpone, mirin and lemon juice. Divide the curd equally among eight small bowls. Top with a grilled peach and drizzle with beer syrup. Finish with a generous dollop of mint mascarpone.
Enjoy!
This recipe was made by BBQ Bastard. Have you used any of our beers in your own tasty recipe? Share it with us at marketing@sintbernardus.be and who knows, your efforts may well be rewarded.