Chocolate mousse of Watou Tripel with pear and hazelnut
Makes: 10 à 12 small serving glasses
Time to prepare: half an hour with a couple of hours to firm up in the fridge
Equipment: nothing special
Ingredients
450g chocolate (60%), 150ml Watou Tripel, 5 eggs , 2 tbsp. sugar, 2dl cream
1 pear, hazelnuts (shelled and roasted)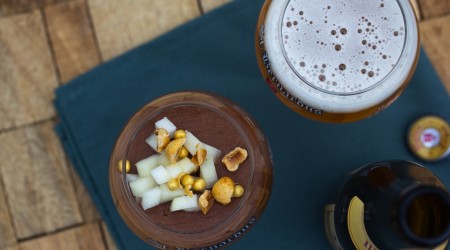 How to prepare
1. Whip the cream until slightly set and place back in the fridge.
2. Heat the beer slowly and carefully. Make sure it does not reach boiling point.
3. Finely chop the chocolate and melt into the beer.
4. Separate the yolk from the egg whites .
5. Beat the egg whites until they form peaks.
6. Whisk the egg yolks with the sugar until the mixture forms a ruban (white foam).
7. Fold the melted chocolate into this ruban.
8. Add the cream and then carefully fold in the egg whites.
9. Spoon into the glasses and allow to firm up for several hours.
10. Cut a pear into small cubes. Use this and the hazelnuts to garnish the mousse.
Just a tip to finish off your dessert: keep it fresh. A crunchy touch, from nuts for example, may work well but we'd advise you to add a more refreshing touch as well. It's all about providing a balance to the chocolate mousse. Instead of pear, you could use something a bit more 'citrusy'.
This recipe was made by Coeur de Boef. Have you used any of our beers in your own tasty recipe? Share it with us at marketing@sintbernardus.be and who knows, your efforts may well be rewarded.