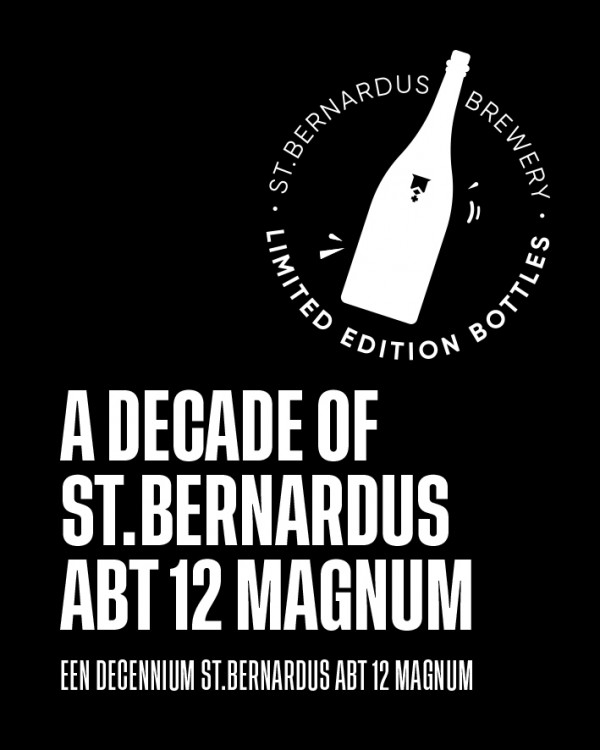 A decade of St.Bernardus Abt 12 Magnum
TRADITION
Our St.Bernardus Abt 12 Magnum celebrates its crystal anniversary in 2022. In several ways, this 2022 version crowns a tradition that first began in 2012.
Since 2012, we have produced a limited number of 1.5-litre Magnum bottles each year. These special dark brown St.Bernardus Magnum bottles are filled with our Abt 12 and feature a raised brewery logo in relief, 'Bière Belge' neck, a personalised cork, and a unique muselet. We also commission artists to design each label. All the artworks become part of our brewery's art collection and can subsequently be admired in our brewery shop.
VERMEERSCH FAMILY
For our first edition back in 2012, Belgian artist Rik Vermeersch created a painting titled 'De Abt' (the abbot). Rik is an illustrator, painter, and sculptor and the son of Belgian sculptor and painter José Vermeersch (1922 – 1997). José has founded an extensive family of artists, with both Rik and Rik's sons Pieter, Lowie, Tinus, and Robin all following in his creative footsteps. Lowie is an internationally renowned automotive designer and creator. He began his career at the illustrious Italian Pininfarina and has now been running Granstudio, his own design studio in Turin, for the past decade. Pieter, Tinus and Robin Vermeersch have also built up impressive portfolios in the visual arts.
José Vermeersch would have celebrated his 100th birthday in 2022. Ten years after his son Rik helped us launch our Magnum tradition, we are honouring José with his own version, based on the sculpture 'Vrouw & Man' (Woman and Man).
'Vrouw and Man' dates from 1986 and is characteristic of José Vermeersch's work, in which the human figure is a recurring theme. His body of work is a bold, free expression of an authentic search for existential truth. His works often mix several types of clay, giving them a marbled appearance.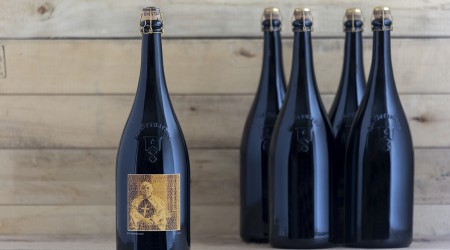 ST.BERNARDUS x WATOU x ART
It also happens to be 30 years ago that José Vermeersch was the star attraction of the 'Watou Arts Festival', which celebrates art and poetry. In 1992, Gwy Mandelinck, the driving force behind this arts festival, decided to have him provide the focal point to that year's festival with an impressive installation at the iconic Douviehuis. Vermeersch created 70 sculptures based on 16 poems by writers such as Herman de Coninck, Rutger Kopland, and Hugo Claus. At the time, our brewery was already heavily involved in the arts festival as the event's sponsor and partner. In the 80s and 90s, spurred on by Bernadette Dekoninck, daughter of our founder Evariste Dekoninck, our current Guesthouse Brouwershuis grew, becoming an ideal summer destination for artists thanks to a great emphasis on the arts.
This same passion for the arts is shared by our brewery's owner Hans Depypere, who wishes to celebrate our brewery's rich heritage while simultaneously promoting the combination of art, Watou, and St.Bernardus.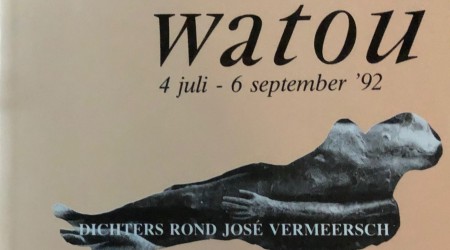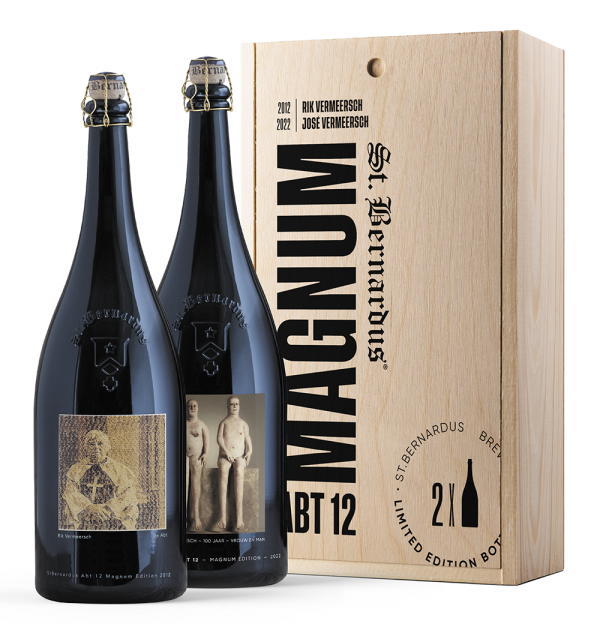 MAGNUM 2022 + VARIOUS NEW LIMITED EDITIONS
Together, these circumstances are the perfect impetus for us to, in addition to creating a new St.Bernardus Abt 12 Magnum's 10th anniversary edition, also honour a decade's celebration of the arts by St.Bernardus.
We are therefore offering the Magnum 2012 and 2022 as a set in a stylish wooden box, to be sold in a limited edition of 500 from May 2022. This set is available worldwide, just like the separate Magnum 2022.
In honour of the past decade, we will also be offering a wooden collector's box with all the Magnums since 2012 (excepting the 2017 version, which is completely sold out) from November 2022. Only 100 of these exclusive collector's boxes will be available. Sales of these boxes will be limited to our St.Bernardus brewery shop in Watou.
WHAT ABOUT THE BEST BEFORE DATE?
What if you have a bottle that has passed its best before date? Do not panic! A best before date is a quality guarantee from our brewery. The product does not pose a danger to public health when used after that date.
Is your beer still safe to drink? Certainly. The Magnum editions of Abt 12 are always refermented in the bottle, because of this the beer continues to develop over the years. You can easily compare this evolution in the taste palette with how a red wine also evolves over the years.
The changing nuances in the taste of our Abt 12 ensure that you can undertake a 'vertical tasting', where you taste different vintages of beer side by side. Do the test!
Our brewery otherwise only sells young, freshly filled beer. Our Magnum editions of Abt 12 offer you an unique opportunity to also taste slightly older beer, without having to leave it in your cellar for 10 years.
Can we think of a better day than Mother's Day to pay tribute to all moms and women in general? In our Guesthouse Brouwershuis, ladies have been 'running the world' for decades. And Beyonce wasn't even born then. Speaking of births, in 1940 Bernadette Deconinck was born in one of the rooms of the Brouwershuis. Bernadette was only 6 years old when her dad, Evariste Dekoninck, received a proposal from the Westvleteren trappists in 1946 to commercialise and brew their trappist beers under licence. From the 1960s, Bernadette developed herself as a hospitable 'lady of the house' avant la lettre. Under her impulse, Guesthouse Brouwershuis grew further into a guesthouse with a great love for art. The many artists of Kunstenfestival Watou found their way to the Brouwershuis and Queen Paola even came by for an event. It may remain a little underexposed, but when the brewery was taken over by Hans Depypere in 1998, his wife, Tine Vansteenkiste, organically laid her accents in the further profiling, furnishing and homeliness of the Guesthouse. Tine usually prefers to stay in the background and with the arrival of Jackie Cockheyt she brought a new 'Hyacinth Bucket' into the ranks, with only emphasis on Hyacinth's positive qualities of course 😉. For years, Jackie was the face of the Brouwershuis. The increasing popularity of the St.Bernardus beers and Belgian beers in general has sparked an international stream of tourists in recent decades, which Jackie defied with the greatest of ease. After a while, the so-called 'beer pilgrims' came to Watou not only for the Heavenly Nectar but also for Jackie, the charming hostess at the Trappistenweg. Since Jackie's retirement halfway through last year, Kato Pattyn has followed in her footsteps and at the beginning of this year, Kato already realised an impressive renovation and metamorphosis of all rooms. Together with the Depypere family (Tine, Julie, Melanie & Helen and all the kids) she's completely 'locked & loaded' to offer all future guests of Guesthouse Brouwershuis an unbeatable stay. No Heavenly Stay at St.Bernardus without all these ladies, that's for sure. May we ask for your applause please?
Pierre Celis - 2004
75 YEARS OF HISTORY ⏪ PIERRE CELIS 👉 Did you know that our St.Bernardus Wit was developed in collaboration with the legendary Belgian master brewer Pierre Celis? Pierre was the undisputed driver of the resurgence of white beer in the 1960s! Early 90s he moved his brewing activities to the USA, starting his own Celis Brewery in Austin. Earlys 00s he developed a new beer that was brewed and commercialised by St.Bernardus, namely 'Grottenbier'. This dark beer is now called 'Grotten Santé' and brewed in Ypres, namely in the Ypres' City Brewery Kazematten. Pierre wanted to return the favour and helped us to perfect our recipe for St.Bernardus Wit. Back in 2004 he visited our brewery and Hans Depypere, Guy Claus, Bruno 'Fons' Verbiest and Marco Passarella welcomed him. Hans is the owner of the brewery since 1998. Guy Claus joined the brewery in the early 1960s as the husband of Bernadette Deconinck, who was one of the daughters of Evariste Deconinck (the founder of the brewery together with his brother Antoine). Bruno Verbiest was our commercial director before Marco took the reigns in 2003. As you can see on the pictures, the gentlemen enjoyed a fine meal prepared by Stefaan Couttenye of restaurant 't Hommelhof in Watou. Pierre's daughter, Christine Celis, got back the trademark of the Celis Brewery in 2012 and still runs the brewery in Austin since then. Pierre passed away in 2011 at age 86. Pierre, thanks for your Heavenly Contribution to our Heavenly Nectar.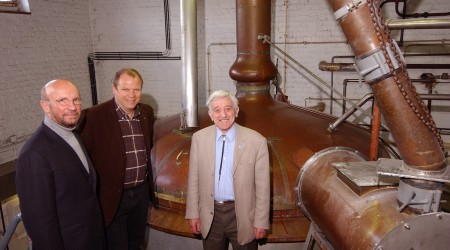 A portrait of owner Hans Depypere
75 years of St.Bernardus Brewery: that's not only a good moment to publish a book, but also the perfect time for our owner Hans Depypere to look back. Roughly 1/3 of those 75 years, he's at the helm of our thriving business. We followed Hans for a day and let him speak as he is, straightforward and down-to-earth. He speaks about his passions (because 'brewing beer' is only one of them) and his best friend Dirk Ghyselinck.
Anyone who knows Hans a little bit, knows that he's not the biggest 'digital native'. Therefore we would like to surprise him 👉 if you call +32 57 65 00 30, you can immediately leave a personal message for Hans. Would you like to congratulate him on the brewery's 75th birthday, or on his entrepreneurial skills, etc.? Then here's your chance! Do you want to ask him why he doesn't answer your mail from about 5 years ago 😜? Then here's also your opportunity 😉
The Great Flemish Stew Debate
In this article, beer community Belgian Smaak takes a closer look at the ancient Flemish classic 'stew with fries'. Why is it so popular? How do you prepare it? And why does everyone give it their own twist? Read more trough the link below!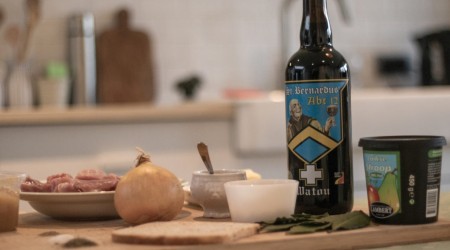 So our (web)shop girls Kayleigh and Kato wanted some airtime during our #abt12day livestream of 12 december 2020. Now we know why they're so cranky every time we discuss new St.Bernardus apparel 😋😃. In the meanwhile, you can still find our 'ordinary' clothing on our webshop 🤗😜👉 https://shop.sintbernardus.be