Tacos with pulled chicken and Prior 8
Serves: 4 persons
Time needed: 20 minutes + 1.5 hours in the oven
Equipment: 1 fire-resistant cast-iron cocotte, such as Staub, Le Creuset (oven-proof)
Ingredients
For the pulled chicken: 500 ml tomato passata, 4 table spoons of soy sauce, 4 table spoons of balsamic vinegar, 1 tablespoon of Worcestershire sauce, 200 ml of BBQ sauce, 1 knife tip of chilli powder, 1 coffee spoon of smoked paprika powder, 1 coffee spoon of garlic powder (or 1 clove of fresh chopped garlic), 150 g brown sugar, 1 bottle of St.Bernardus Prior 8 (33cl), 2 cm of ginger, 700 g chicken thighs
For the finish: 3 mini-wraps per person, 2 lettuce hearts or little gems, 1 red bell pepper, 1 avocado, some coriander leaves, 1 lime, 4 table spoons of yoghurt, pepper, salt. Optional: pickled jalapeños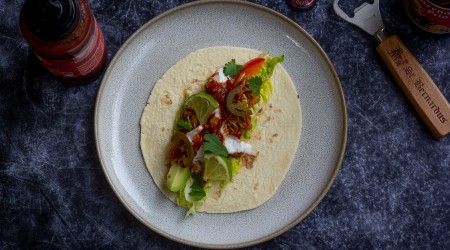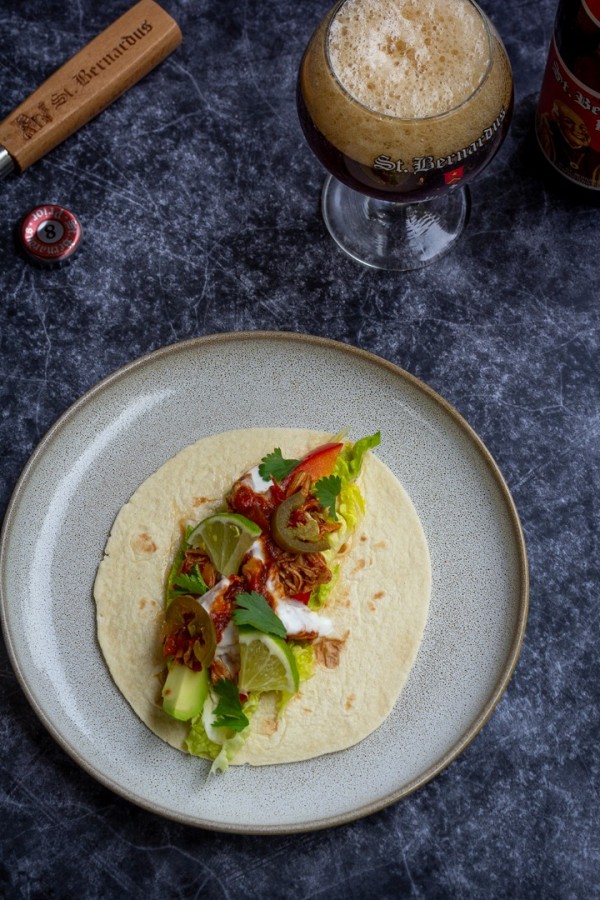 Preparation
Preheat the oven to 150°C.
Use a refractory cocotte. Place the passata, soy sauce, balsamic vinegar, Worcestershire sauce, BBQ sauce, chilli pepper, paprika powder, garlic powder, brown sugar, St.Bernardus Prior 8, and the chopped ginger in the cocotte. Add the chicken thighs.
Let simmer for 1.5 hours with the lid on in the warm oven.
Remove the meat from the sauce and pull it apart using two forks.
Let the sauce reduce to about half the original volume. Mix some of the sauce with the chicken. Finish with pepper and salt.
Cut the lettuce hearts and bell pepper into strips. Mix the juice of half a lime with the yoghurt. Cut the other half into slices.
Place lettuce, bell pepper, and the chicken on a wrap. Add some more yoghurt sauce and some of the reduced sauce. Finish with coriander, lime, and possibly some jalapeños.
Enjoy!
This recipe was made by Coeur de Boef. Have you used any of our beers in your own tasty recipe? Share it with us at marketing@sintbernardus.be and who knows, your efforts may well be rewarded.