Steak tartare with a St.Bernardus mayonnaise
Ingredients
For the mayo: 1 egg, 1 tbsp. mustard, 300ml rape seed oil, a dash of St.Bernardus Tripel, pepper, salt
For the tartare: 200g beef (for example 'bavette'), 2 tsp sesame seeds, pepper, salt, a few leaves of watercress, olive oil, one shallot, 1 tbsp. of capers, 1 pickle, dark multi-grain bread, thyme, one clove of garlic, rosemary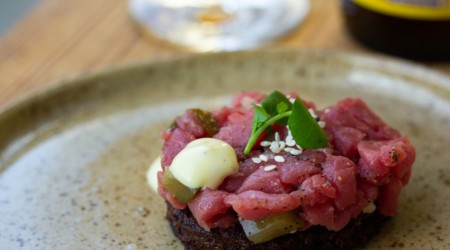 Stick the meat in the freezer for half an hour to make it easier to cut. Place a mixing bowl in the fridge.
Take a tall measuring cup and add the egg, the mustard and the rapeseed oil. Season with pepper and salt.
Prepare a mayonnaise using the hand blender. Start at the bottom and work your way up slowly until you have a thick mayonnaise. Add a dash of the tripel to taste. Transfer to a piping bag and chill.
Finely chop the shallot, capers and pickle. Transfer to the chilled mixing bowl.
Remove the meat from the freezer. Make sure that your knife is razor-sharp. Cut the meat into slices, then into strips before dicing it. Place in the mixing bowl and blend. Season with pepper and salt.
Cut out a circular shape (or a different shape) from a slice of bread. Briefly fry in olive oil with a clove of garlic, rosemary and thyme. Remove from the frying pan and pat dry with a piece of kitchen roll.
Spoon the tartare onto the piece of toast once it has cooled down slightly. Garnish with watercress, mayonnaise and sesame seed.
Enjoy!
This recipe was made by Coeur de Boef. Have you used any of our beers in your own tasty recipe? Share it with us at marketing@sintbernardus.be and who knows, your efforts may well be rewarded.