Spare ribs with coleslaw and baked potato
Serves 6
Preparation time: 1 day
Equipment: Food smoker, you can use the oven if you don't have one
Ingredients
6 racks of spare ribs (not marinated, and from a good source)
For the rub: 1tsp fennel seed, 1tbsp cumin seed, 2tsp coriander seed, 2tsp black pepper, 4tbsp demerara sugar, 1tsp salt, 0.5tsp smoked paprika powder, 2tsp oregano, 0.5tsp cayenne pepper, 1tsp Sichuan pepper, 1tbsp paprika powder, 1tsp ginger powder, 3 cloves of garlic
For the glaze: 75ml hoisin sauce, 5tbsp honey, 2tbsp sushi vinegar, 250ml St.Bernardus Prior 8, 2cm piece of fresh ginger root, 2 cloves of garlic, 1tbsp soy sauce, 1 cinnamon stick, 2 star anise, 1 pinch of fennel seed, 1 pinch of Sichuan pepper, 3 cloves
For the potatoes: 10 potatoes , a few leaves of basil, a few leaves of lovage, a few leaves of tarragon sprigs , 5 leaves of sage, three cloves of garlic, 150g butter, 1tsp paprika powder
For the coleslaw: carrot, white cabbage, fennel, yoghurt, lime, pepper, salt, mayonnaise, white wine vinegar
For the cucumber relish: 1 cucumber, 2tbsp sushi vinegar, 2tbsp olive oil, 1tbsp pink peppercorns, the green leaves from the fennel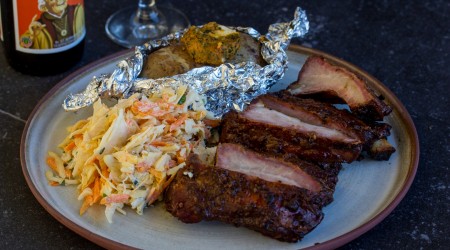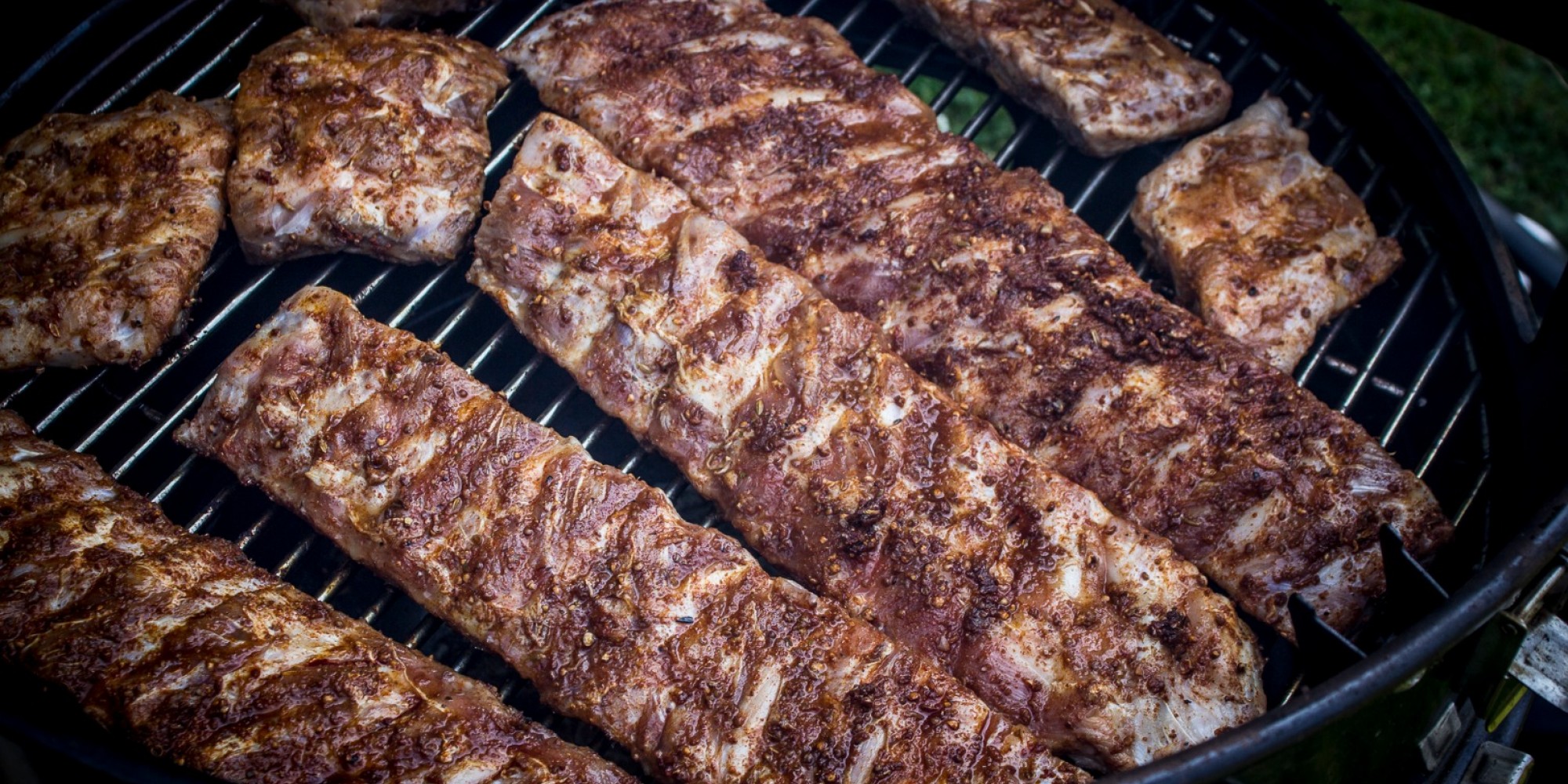 SPARE RIBS WITH COLESLAW AND POTATO
Mix up the spices for the rub. Peel the garlic and dice finely and mix with the spices, using a mortar and pestle to grind into a powder.
Place the ribs in a large dish and apply the rub. Close the lid or cover well (or store in large freezer bags). Marinate for at least a morning and ideally overnight.
For the herb butter to go with the potatoes: finely chop all the herbs, make sure the butter is soft and mix in the herbs, paprika, diced garlic, pepper and salt.
Pre-steam the potatoes for around 15 minutes and wrap them in aluminium foil.
Grate the carrots, white cabbage and fennel. Mix. Squeeze the lime and add the juice to 3tbsp yoghurt and 3tbsp mayonnaise. Season with pepper and salt and refresh with a spoonful of vinegar.
Cut the cucumber into very thin, almost transparent slices. Add the olive oil, sushi vinegar, fennel leaves and peppercorns.
Heat up the food smoker. Add the beer mixture to the liquid compartment. Place the ribs on the rack and smoke for approx. 4 hours at 100 - 120 degrees Celsius until done.
Reduce all the ingredients for the glaze by half and rub into the ribs from time to time.
Place the potatoes on the hot coals 20 minutes before serving or finish them by baking in the oven for 20 minutes.
Serve the ribs with the potatoes, covered with the herb butter, alongside the cucumber relish and coleslaw.
Tuck in!
This recipe was made by Coeur de Boef. Have you used any of our beers in your own tasty recipe? Share it with us at marketing@sintbernardus.be and who knows, your efforts may well be rewarded.