Risotto with Pater 6, mushrooms and hazelnut
Serves: 4 persons
Time needed: 30 minutes
Needed: a sturdy cocotte, a frying pan
Ingredients
1 clove of garlic, 1 shallot, 1 dash of olive oil, some sage leaves, some sprigs of thyme, 250g risotto rice, 1 bottle of St.Bernardus Pater 6, 8 to 10dl of vegetable stock, 200g of mushrooms, 1 lump of butter, pepper, salt, 50g hazelnuts (peeled and roasted), 1 handful of parsley, 60g St.Bernardus cheese, 60g Parmesan cheese, 1 lemon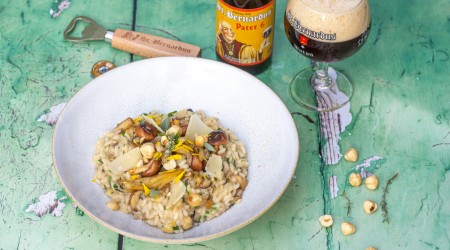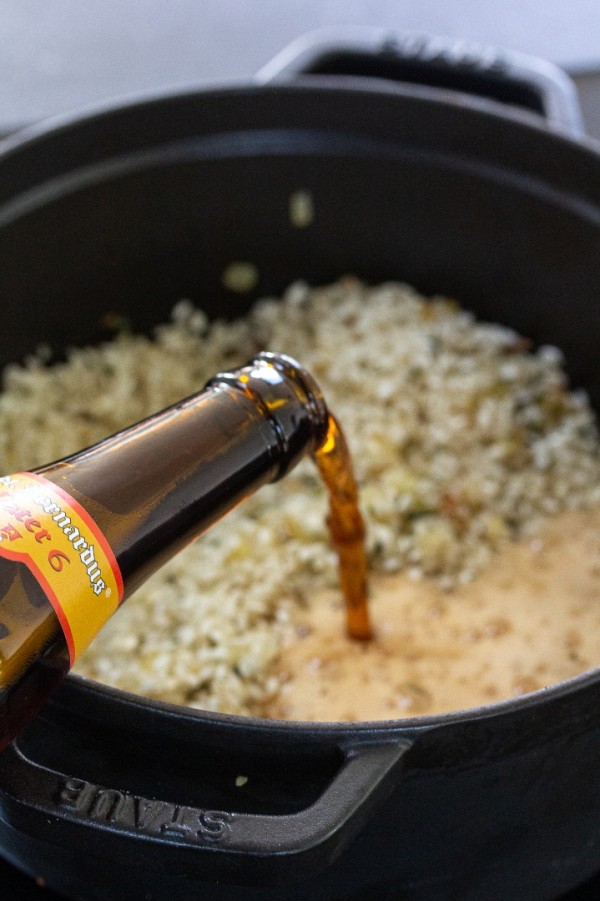 Preparation
Chop the garlic and shallot. Bake them in some olive oil.
Chop the sage and add it to the shallot with the thyme.
Add the rice. Cook briefly and add half a bottle of beer. Keep the rest of the bottle to serve with the dish. Let the beer evaporate.
Make sure that the vegetable stock is warm and add spoon by spoon. Stir regularly to make sure the rice does not burn. Let the moisture evaporate and keep adding new stock.
In the meantime, cut the mushrooms into pieces. Melt some butter and bake the mushrooms at a low heat. Season with pepper and salt.
Cut the hazelnuts into coarse pieces. Chop the parsley. Grate the Parmesan cheese and cut the St.Bernardus cheese into pieces.
The risotto will be done after 15 to 20 minutes. First mix it with the cheese. This makes it nice and creamy. Add the mushrooms, parsley, and the hazelnuts.
Season with pepper and salt.
Serve immediately.
Enjoy!
This recipe was made by Coeur de Boef. Have you used any of our beers in your own tasty recipe? Share it with us at marketing@sintbernardus.be and who knows, your efforts may well be rewarded.