Pulled jackfruit with Pater 6 and red cabbage salad
Ingredients
Pulled jackfruit: 2 jars of jackfruit in water (canned in the supermarket), ½ bottle St.Bernardus Pater 6, 4 tbsp barbecue sauce or smoked ketchup, 2 tsp paprika powder, pili pili (or cayenne pepper or harissa to your taste), 1 garlic clove, pepper, salt
Red cabbage salad: 1/3 red cabbage, 2 tbsp apple vinegar, 120 g raisins, 1 apple, pepper, salt, fresh cilantro
Finishing touches: bun, wrap or bagel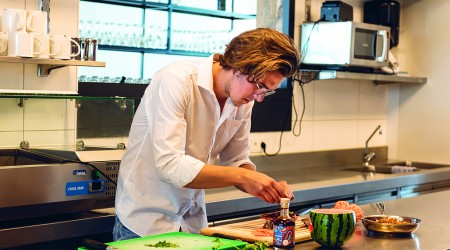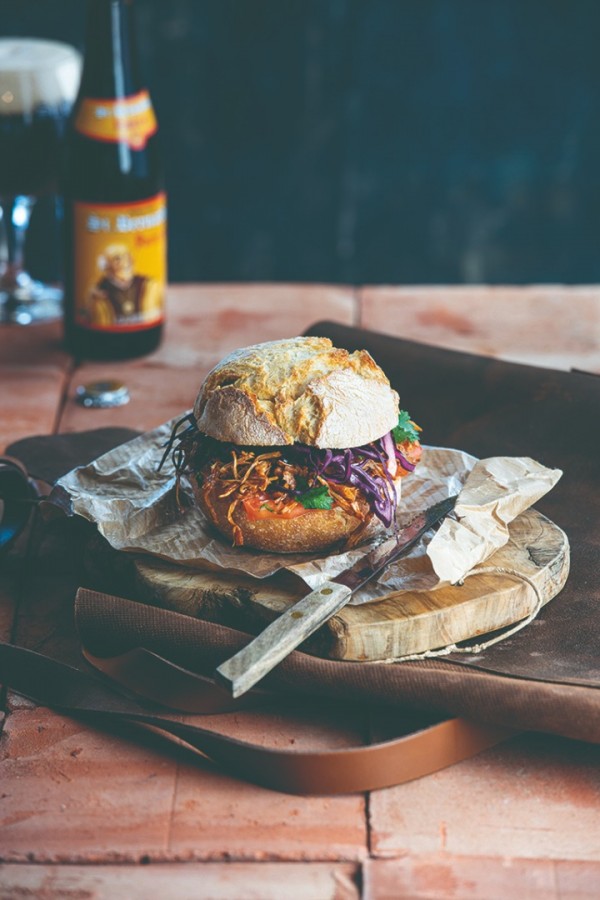 Preparation
Pulled jackfruit
Jackfruit naturally has a fleshy thread texture, with little or no flavour: perfect for this vegan version of pulled pork. To get the best flavour from this fruit, it's best to marinate it the day before.
First drain the jackfruit and then rinse it thoroughly under cold water. Mix the Pater 6 with the barbecue sauce, paprika powder, pili pili and garlic. Tear the jackfruit into smaller threaded pieces with two forks or with your hands. Mix into the marinade and marinate overnight in an oven dish. Place the oven dish in a preheated oven at 190 °C and bake for 15 minutes. Stir regularly. Season with salt and pepper.
Red cabbage salad
Slice the cabbage thinly and add the apple vinegar and raisins. Cut the apple into fine fries and gently mix them into the salad. Season to taste with salt, pepper and finely chopped cilantro.
Finishing touches
Serve in a bun, wrap or bagel for a guilt-free burger.
Enjoy!
This recipe was made by Sander Tant of Alles Kan Niets Mood and Atelier Hortense (Reningelst, Belgium) for our book "75 years St.Bernardus: a brewery hidden in the hop fields". Have you used any of our beers in your own tasty recipe? Share it with us at marketing@sintbernardus.be and who knows, your efforts may well be rewarded.