Pork cheeks with Abt 12, Belgian fries and fresh mayonnaise
Ingredients
Basic fond
3 kg veal and beef bones, 1 piece bacon rind, 2 onions, 2 carrots, 1 celery, 1 small can of tomato puree, water, bouquet garni: bunch of parsley stalks, thyme and bay leaves, 2 garlic cloves, 6 crushed white peppercorns
Pork cheeks
1.2 kg pork cheeks, 1 large onion, 2 shallots, 2 garlic cloves, 50 g peppered farm butter, salt and pepper to taste, 2 bottles St.Bernardus Abt 12 (and 1 bottle to taste), 1.5 l basic fond (see above), 3 slices of gingerbread from Poperinge, 3 tbsp Mostaard Wostyn mustard, 2 tbsp dark cassonade, 1 sprig of thyme, 4 bay leaves
Mayonnaise
3 egg yolks, 1 tbsp Mostaard Wostyn mustard, 1 tbsp vinegar, pepper, salt, 300 ml oil (sunflower, peanut or corn)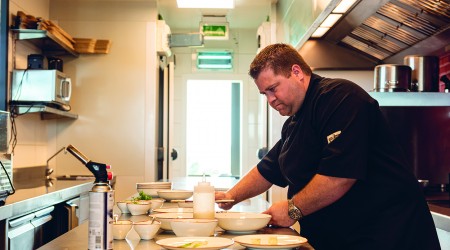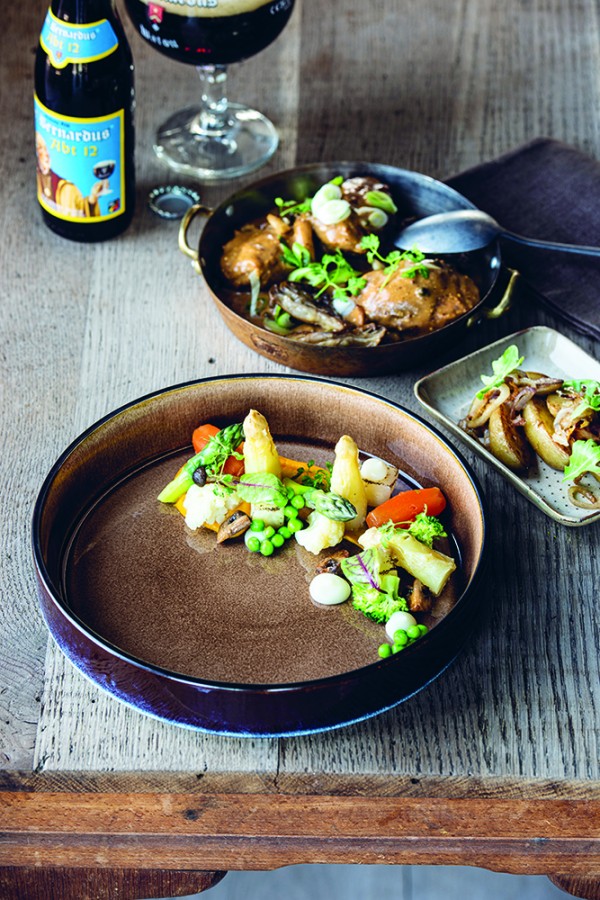 Preparation
Basic fond
Brown the bones and bacon rind in a pan. Add the coarsely chopped vegetables and brown them lightly. Add the tomato puree and allow to stew and brown further. When everything has browned nicely, transfer it to a large pot. Stir the residues and roast-ing juices well with water and add to the large pot. Add the bouquet garni, garlic and pepper, cover everything with water and simmer gently for 4 hours. Degrease regularly and sieve the stock through a fine pointed sieve. Finally, allow the stock to reduce gently to a third. Leave to cool and degrease well.
Pork cheeks
Ask your butcher to clean the pork cheeks. Peel and chop the onion and shallots. Peel the garlic and crush the clove into a pulp. Melt butter and stew the onion, shallot and garlic. Season the pork cheeks well with salt and pepper and fry them until golden brown in a hot pan with butter. Add them to the pot with the stewed onion and shallot.
Deglaze the pan with the residues of the cheeks with two bottles of Abt 12 and 1,5 litres of basic fond. Stir well and add all the residues to the pot with the pork cheeks. Then add the gingerbread covered with mustard, and the cassonade, thyme and bay leaf. Leave to simmer gently for about 2 to 2.5 hours until the pork cheeks are cooked.
Mayonnaise
Beat the egg yolk with mustard and vinegar and season with salt and pepper. Bind with oil and season again with salt and pepper.
Finishing touches
Serve with home-made fries fried in ox fat, vegetables or a salad of your choice and fresh mayonnaise.
Enjoy!
This recipe was made by Pieter Janssens van Den Heksestoel (Loker, Belgium) for our book "75 years St.Bernardus: a brewery hidden in the hop fields". Have you used any of our beers in your own tasty recipe? Share it with us at marketing@sintbernardus.be and who knows, your efforts may well be rewarded.