Linguine with boar ragout and Abt 12
Serves: 4 to 6 persons
Time needed: 30 minutes of active cooking + 4 hours of slow cooking
Equipment: cocotte (oven-proof), 1 large pan, 1 oven
Ingredients
1.2kg boar stew, 2 cloves of garlic, 2 onions, 4 carrots, 3 celery sticks, butter, pepper, salt, 70g tomato concentrate, 5 cloves, 1 knife tip of nutmeg, 1 cinnamon stick, 5 juniper berries, 3 sticks of thyme, 2 bottles of St.Bernardus Abt 12, 2 bay leaves, 4 tablespoons of mustard, 4 tablespoons of redcurrant jam, 2 sandwiches, some sprigs of parsley, about 75g of pasta (linguine) per person, Parmesan cheese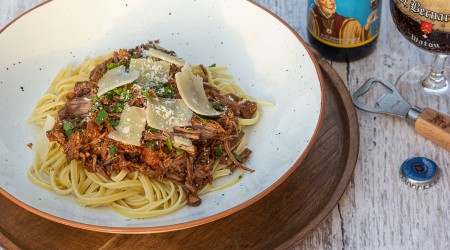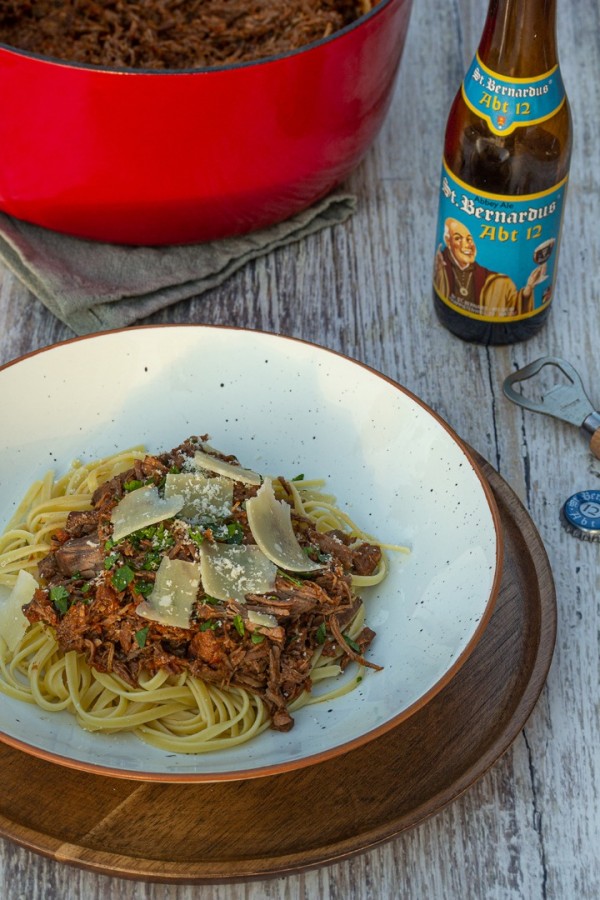 Preparation
Preheat the oven to 150°C.
Dab the meat dry using a paper towel. In the meantime, melt some butter in a large frying pan.
Fry the pieces of meat. Sear them along all sides. If necessary, you can do this one after the other.
Chop the garlic, onion, carrots, and celery.
Melt more butter in the cocotte. Fry the garlic and onion at a low temperature. Add the carrots and celery.
Add the seared meat.
Add the tomato concentrate, cloves, nutmeg, cinnamon stick, juniper berries, thyme, and bay leaves. Season with pepper and salt.
Add the beer. Make sure the meat is just submerged.
Spread the jam and mustard over the sandwiches. Place them on top of the meat. Add the parsley sprigs.
Place the lid on the cocotte. Place it in the preheated oven. Slow-cook the dish until the meat falls apart.
Boil the noodles according to the instructions on the packaging. Chop the parsley and grate the Parmesan cheese.
Serve the pasta with the ragout and finish with parsley and Parmesan cheese.
Enjoy!
Tip: do you have any meat left? Freeze it and store it for the next time.
This recipe was made by Coeur de Boef. Have you used any of our beers in your own tasty recipe? Share it with us at marketing@sintbernardus.be and who knows, your efforts may well be rewarded.