Easy Shio ramen with chicken and yuzu
Ramen is a popular Japanese street food dish. It is a tasty noodle soup. The four classes of ramen are Shoyu, Miso, Tonkotsu and Shio. Because miso and tonkotsu are quite heavy, we chose to pair our St.Bernardus Tokyo with shio ramen. The best-known ramen, called shoyu, is also slightly heavier.
For this recipe, we have chosen an easy twist on shio ramen, using vegetables, chicken (or fish) and seaweed, which is seasoned with salt (shio means salt in Japanese). The refreshing, slightly bitter and hoppy flavour of our St.Bernardus Tokyo counteracts the saltiness of the shio ramen.
Dish: noodle soup
Quantity: 4 persons
Preparation: 60 minutes
Ingredients
For the broth: 1.5 l chicken stock, 10 g coarse sea salt, 10 g dried mushrooms, 1 clove garlic, 15 g ginger, 1 tbsp yuzu juice, 1 piece of kombu or dried seaweed, 1 tbsp bonito flakes, 2 chicken thighs
For the eggs: 2 eggs, 2 tbsp soy sauce, 2 tsbp mirin, 4 tbsp water
For the topping: 2 tbsp soy sauce, 1 tbsp sesame oil, 1 handful of baby spinach leaves, 2 portions of ramen noodles, 2 eggs (marinated in soy sauce), 3 spring onions, 1 handful soybean sprouts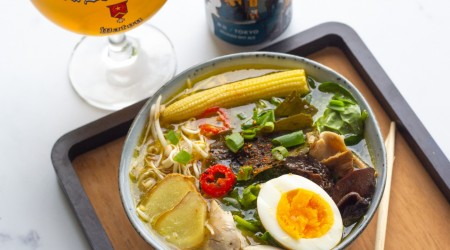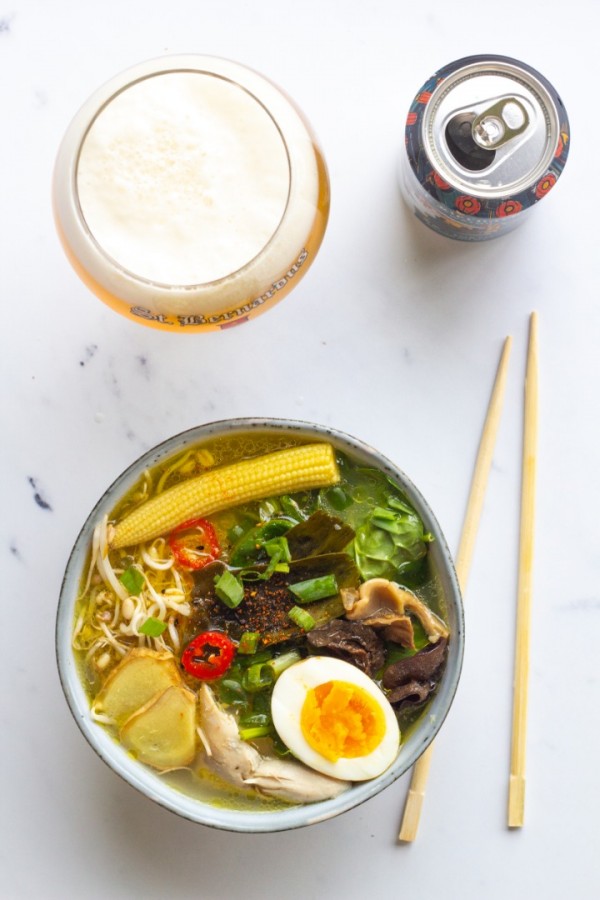 How to prepare
For the broth
Bring the stock to the boil. Add the salt, the bonito flakes, the mushrooms and a finely-sliced clove of garlic. Peel the ginger, crumble the seaweed and add to the stock. Cook the chicken thighs in the stock. Cook for approximately 15 minutes or until cooked through. Strain the broth and simmer over low heat. Pull the meat from the chicken thighs and set aside.
For the eggs
Combine the soy sauce with the mirin and the water and pour into a freezer bag. Boil the eggs for 6 to 7 minutes. Remove them from the water and transfer them to a bowl of ice water. The eggs will cool off and stop cooking. Peel them carefully and transfer them to the freezer bag. Marinate for a few hours. Cut them in half and use them as a topping for the ramen.
For the ramen noodles
Heat the bowls by pouring in the hot broth first. Return the broth to the pot just before filling the bowls. Boil the noodles according to the instructions on the packaging. Drain and transfer to the bowls. Season the broth with soy sauce and sesame oil. Coarsely chop the spring onions. Divide the spinach leaves, the soybean sprouts and the chicken over the noodles. Pour over the hot broth. Garnish with half an egg.
Enjoy!
And remember: slurping is definitely allowed.
This recipe was made by Coeur de Boef. Have you used any of our beers in your own tasty recipe? Share it with us at marketing@sintbernardus.be and who knows, your efforts may well be rewarded.