Coupe St. Bernard: chocolate and beer ice cream with a chocolate and vanilla sauce
Quantity: makes 1 litre of chocolate ice cream, to serve around 8 people
Equipment: ice cream maker
Preparation time: a day, including making the ice cream, which can be done in advance
Ingredients
To serve: Jules Destrooper almond thins (or similar), half a vanilla pod, 100ml whipping cream (30% to 40% fat content), 1tsp icing sugar, around ½ litre of vanilla ice cream
For the sauce: 35g sugar, 35ml water, 70g chocolate (70% cocoa content), 70ml St. Bernardus Abt 12 (keep the remaining beer from the bottle), 70ml whipping cream (30% to 40% fat content)
For the chocolate ice cream: 400ml cream, 250ml milk, 80g sugar (half caster sugar, half dark candi sugar if possible), 110g dark chocolate, 1 sprinkle of cocoa powder, half a vanilla pod, 150ml St. Bernardus Abt 12 (set aside the remainder), 6 egg yolks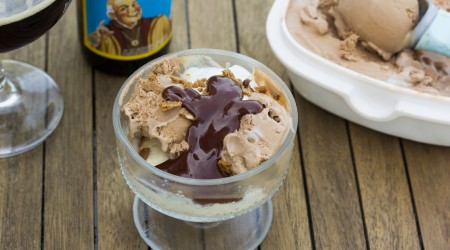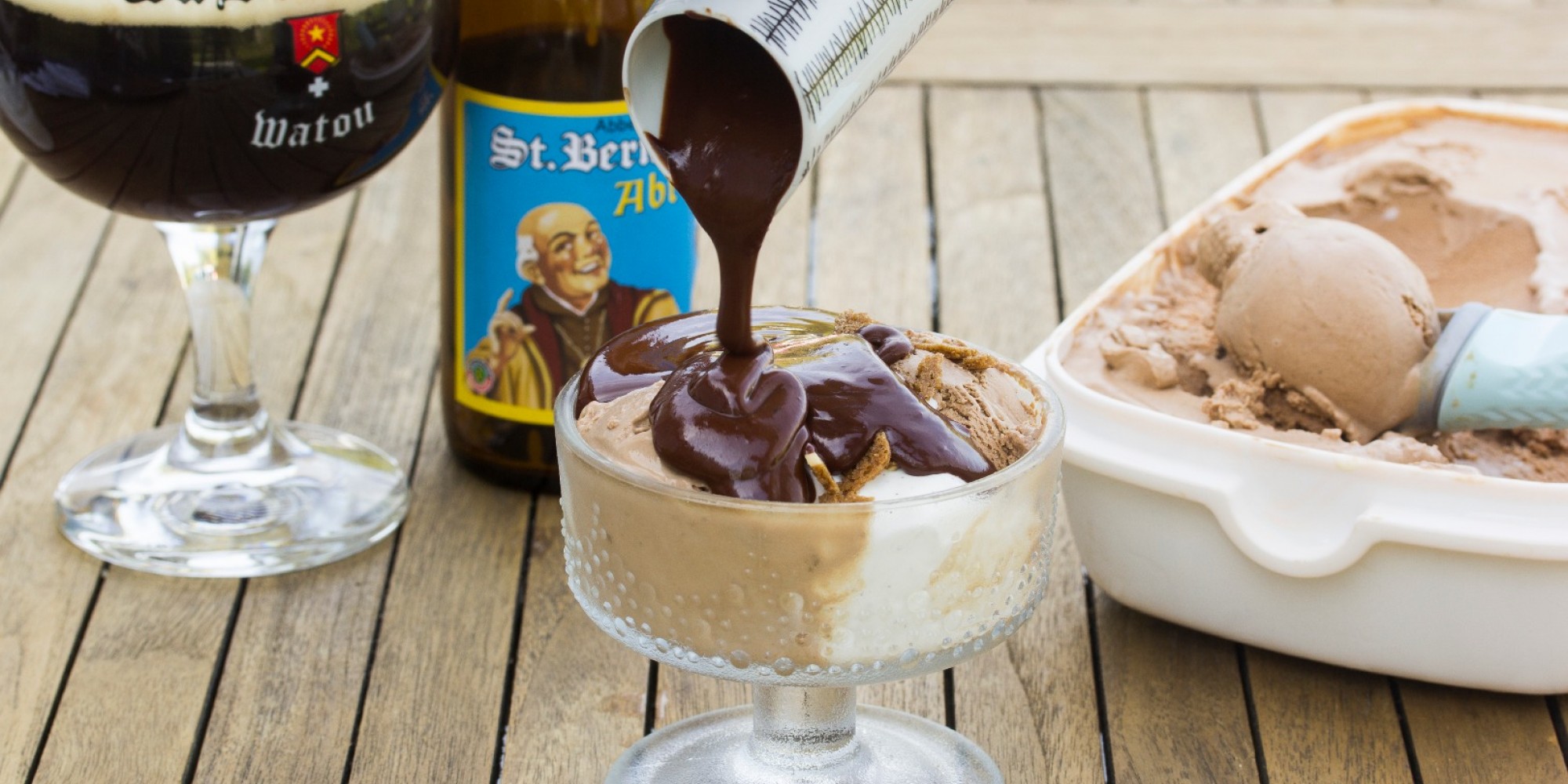 For the ice cream, beat the egg yolks with the sugar until the mixture forms ribbons. Slowly heat the beer with the cream, milk, cocoa and the whole vanilla pod.
Add to the egg and sugar mixture to the beer mix and fold it in before returning it all to the saucepan and heating to about 80°C, stirring continuously and making sure that the mixture does not reaching boiling point.
Fold in the chocolate and, if desired, add another 50ml of beer. Leave overnight to allow the flavours to develop.
Use the ice cream maker to turn your mix into ice cream, adding a little more beer if needed.
For the sauce, melt the sugar in the water to obtain a brown caramel. Lower the temperature by adding the cream and the beer. Then add the chocolate and stir until melted.
To finish, whisk the 100ml of cream with the contents of the half vanilla pod and the icing sugar until it thickens, stopping before it sets.
Break the almond biscuits into small pieces.
Arrange two scoops of chocolate and beer ice cream and one scoop of vanilla ice cream in a coupe or bowl. Finish off with whipped cream, chocolate sauce and the biscuits.
Enjoy!
This recipe was made by Coeur de Boef. Have you used any of our beers in your own tasty recipe? Share it with us at marketing@sintbernardus.be and who knows, your efforts may well be rewarded.