Asparagus with marinated wild salmon and a sabayon of white beer
Serves 2
Preparation time: 1 hour
Equipment: saucepan with a handle, whisk, asparagus pan, frying pan, a sharp knife
Ingredients
200g wild salmon, 2tbsp olive oil, pepper, 1.5tsp coriander seeds, a piece of fresh ginger (2cm in length), lime and grapefruit zest, lime juice , 1.5tsp pink peppercorns, fresh dill, 0.5kg fresh white asparagus, butter
For the sabayon: pepper, salt, fresh dill, lime zest, 4 egg yolks, 4 egg cups full of St.Bernardus Wit (drink the remaining beer with the meal), 120g butter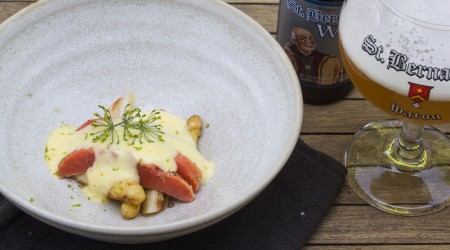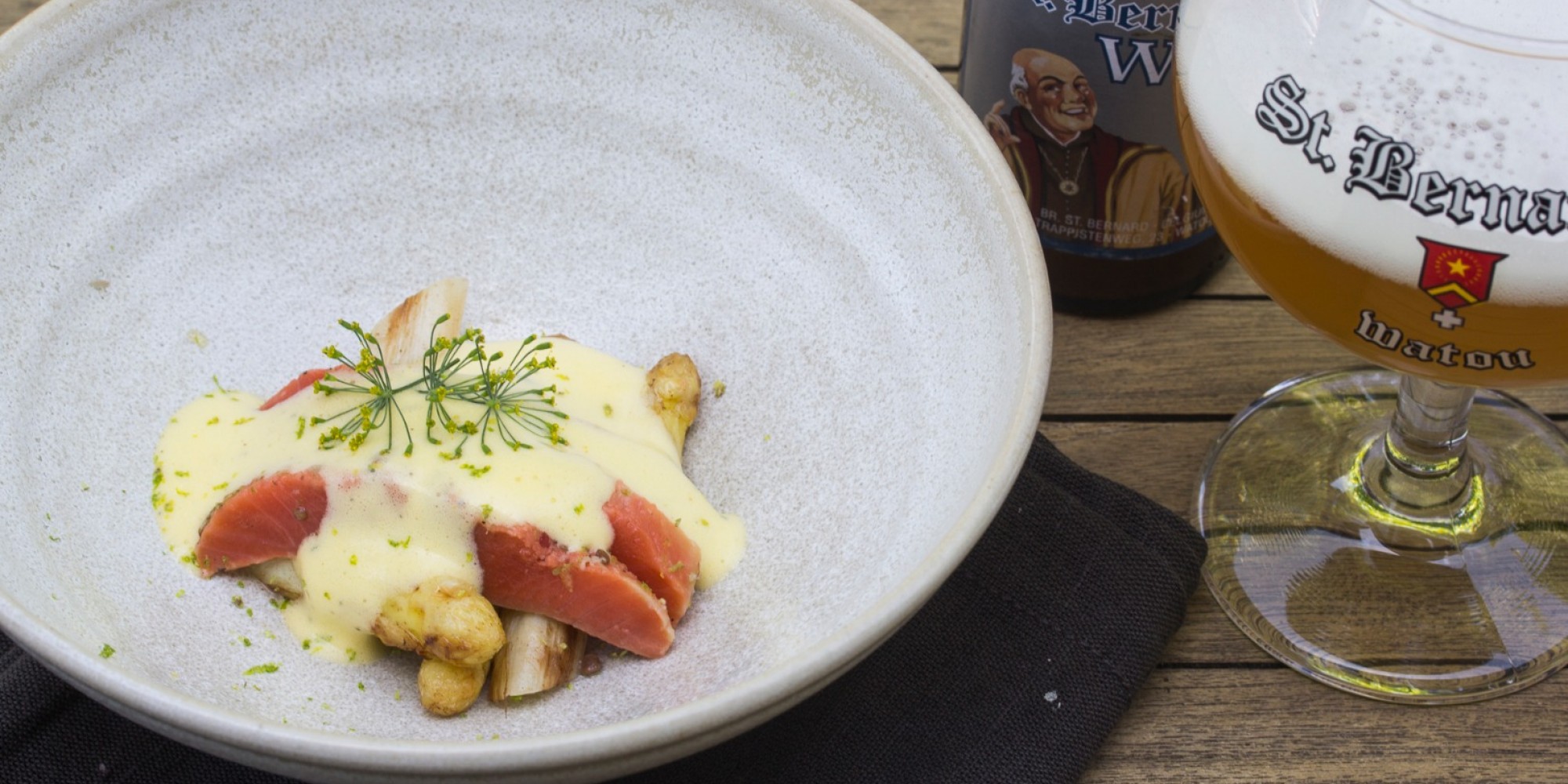 Roughly crush the peppercorns and the coriander seeds and put them in a shallow dish and mix with the olive oil, grated ginger, lime and grapefruit zest (rinse the fruit first), the juice of half a lime. Add the salmon and let it marinate in the fridge for a short while .
Peel the asparagus and remove the tough ends of the stalks. Place in boiling water with a pinch of salt added and boil for 3 minutes. Drain.
Melt the butter in a pan and fry the asparagus in the foaming butter. Season with pepper and salt and set aside.
For the sabayon, melt the butter on a low heat and skim off the white-coloured foam that appears to produce clarified butter. Whisk the egg yolks with the beer until frothy. Place on the hob and whisk continuously until the mass thickens but retains its froth. Add the clarified butter in one single continuous stream. Blend. Refresh with the juice of the remaining lime half, lime zest, black pepper and finely chopped dill.
Thinly slice the salmon and arrange on a plate together with the asparagus. Finish off with a generous drizzle of sabayon, fresh dill (flowers), lime zest and a twist of the pepper mill.
Enjoy!
This recipe was made by Coeur de Boef. Have you used any of our beers in your own tasty recipe? Share it with us at marketing@sintbernardus.be and who knows, your efforts may well be rewarded.